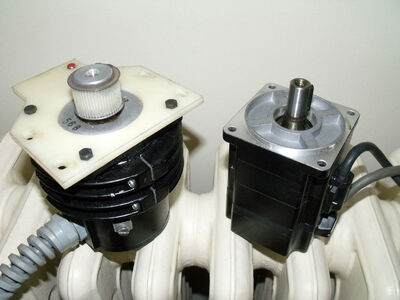 It is possible a couple of other motors from the P5 series might fit depending on your application: the 400W is 113mm long x 70mm square, the 500W is 126mm long x 86mm square (these are untested: check the dimensions of the space inside your machine first!!) If you try a different P5 series motor, make sure to get one with an S in the part number (incremental encoder), no brake, and no gearbox.
Some other specs on the P50B07030VXKS7: max rpm 3000, 300W output, torque ???
| | Length (back to flange) | Shaft Diameter | Body Diameter |
| --- | --- | --- | --- |
| Sanyo P50B07030 | 101mm | 14mm | 76mm |
| Original Berger Lahr | 105mm | 0.375" (~9.5mm) | 89mm (between slots) |
Ad blocker interference detected!
Wikia is a free-to-use site that makes money from advertising. We have a modified experience for viewers using ad blockers

Wikia is not accessible if you've made further modifications. Remove the custom ad blocker rule(s) and the page will load as expected.